To climb Swiss mountain peaks is easy now
3731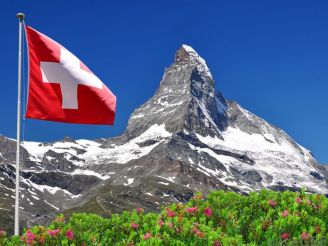 This year, Swiss Peak Pass for tourists has been launched in Switzerland. This package pass complements casual Swiss Pass for four or eight days. Paying €24 or €48 you get an access to unlimited usage of cable lifts going to eight Swiss peaks: Cardada, Allalin, Corvatsch, Brienzer Rothorn, Niesen, Rochers de Naye, Säntis and Stanserhorn. Swiss Peak Pass can be bought at places where the Swiss Travel System operates; citizens of all countries except Switzerland and Lichtenstein are allowed to purchase it. For the pass purchasing you should show your passport or ID card (the photo is not needed).
The Swiss mountains is something definitely worth visiting. From the top of Cardada, the cable way goes above the town of Locarno and gives spectacular views of Maggiore. Allalin can amaze you with the highest mountain restaurant which also turns around. The highest mountain metro will bring you there on the height of 3 500 metres. You can visit Ice Pavilion, watch magnificent Alpine peaks, go skiing and sledging. A restaurant which stands on the always snowy peak of Corvatsch is at your disposal offering not only excellent food, but also fantastic views of Lake Sils. You can go sightseeing around the glaciers with a professional guide. Brienzer Rothorn is famous for the large observation deck, where Lake Brienz and the Bernese Alps can be seen. The first passengers got there by train in early 1892. These ancient steam-powered trains still carry tourists there.
Mount Niesen can be reached by a cable lift. World's longest staircase of 11674 stairs is situated next to the lift. From the peak of Säntis on the height of 2500 metres you can see not only Swiss mountain peaks, but also German Schwarzwald and the French Vosges, charming sunrises and sunsets. A road to Stanserhorn is a unique combination of past and present times. First you go by a cable lift of the 19th century and then you enjoy sightseeing of Lucerne and the Bernese Alps from a modern two-deck lift with an open view deck on its top. Less than in an hour you can get to the picturesque top of Rochers de Naye, where on the height of 2000 metres the panoramic view of the French and Swiss Alps and Lake Geneva is open for you. A huge number of marmots live on here on the slopes. An Alpine garden and Mongolian yurts can be seen there as well. There's a schedule for each lift and train route of each mountain during the year.
The owners of Swiss Peak Pass can use all the facilities available for a casual Swiss Pass. It means they can travel around Switzerland in buses, trains and by water means of transport for free as well as visit 470 museums.
If you liked the news, tell your friends :)