Paul Klee Center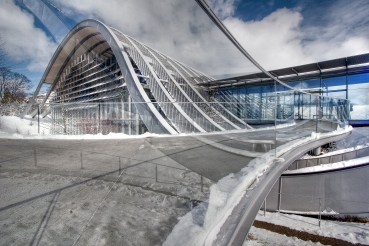 International Exhibition Centre was opened by Paul Klee in Bern in 2005. The museum building was designed by the Italian architect Renzo Piano. Its total area of over 1700 square meters. The museum is a wave-like structure made ​​of glass and metal. The building that houses the center, in its form resembles three hills. This unique landscape sculpture fits so well into the surrounding space that almost merges with the picturesque fields and meadows. 
The museum fruitful modern exhibition halls and rooms for organizing various seminars, children's museum «Creaviva» and a restaurant. The exposition of the museum are works by the German artist Paul Klee, who created about 10,000 paintings. The Center exhibited his work, as well as other artists. 
Paul Klee Center is very convenient. It is connected to the historical part of Bern special tram route. To get to the center of Paul Klee by bus number 12 or tram number 7. Need to go to the bus stop Zentrum Paul Klee.