Swiss National Park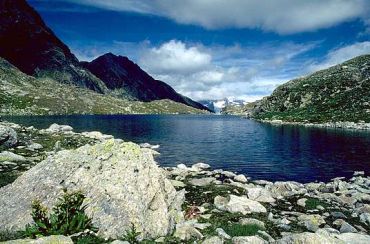 In the eastern part of Canton Graubünden, Swiss National Park is located. This famous place is in the UNESCO Biosphere Reserve list. The park was founded in the Engadin Valley in the foothills of the magnificent Alps. In former times, significant deforestation and development of territories were notable for the area of the present day park. Then it was decided to create a park in order to suspend business activities of human and bring nature to its original condition.
To date, the park's area is about 173 square kilometres. Coniferous forests, alpine meadows, pure lakes, and greenless slopes attract tourists to the park from around the world. Trails have been broken through the park so visitors could travel and watch all the beauty. Here you can feel connection with nature enjoying the Alps: mountain pine forests, alpine and sub-alpine meadows, peaks of the majestic mountains. For one hundred years, flowering meadows of the Alps have become the habitat of rare species of animals, birds and fish. Swiss National Park is home to more than 60 species of mammals, almost 100 species of birds, 70 species of amphibians. In the park, tourists can see Alpine ibex, chamois, marten, alpine marmot, and even Alpine newt.
A visit to the park is free of charge. Across the area, you can find parking lots, from which many routes and trails start. Swiss National Park welcomes visitors every day from June to October. Summer is a perfect season to see all its diversity and beauty. July and August are the best. At this time, green meadows and delicate aroma of wild flowers reign there. Every hour, buses from Müstair and Zernez run to Swiss National Park.